Monday, June 14, 1999-
Plane lands in Milan, the roughest flight I've ever been on in my life. While still over Paris Lady Ms. Pilot comes on saying that there is a summer storm at the fashion capital but by the time we get there it will have passed. She was wrong. Lightening hits nose of plane and I thought the tiny vehicle blew up. I was pinching myself so I was still alive, rough turbu and everyone is throwing up. But we land alright. I guess lightening isn't that big of a deal on planes these days, but you could have fooled me.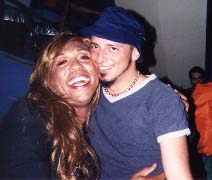 Ms. Davis with skinny Italian beauty boy
Of course no one is waiting for me at airport and I really needed a friend. I purchase the calling card for Italia and try calling Giampaolo but the phones in Italy sound like a busy signal when ringing so I was confused and didn't get ahold of him or anyone for that matter. Figured out how to take bus to Centrale Station in Milan hoping someone was waiting for me there. Well no one was, so after about 2 hours I go to club Plastico which is in an ugly part of town and hang in front with all my luggage, hoping that someone will come along to deliver alcohol or something. Only one who shows up is some girl who lives up above club and cleans, and she isn't very helpful, I see poster for film festivale and take taxi there. Luckily the senora at the teatro calls Giampaulo and he and his humpy french canadian boyfriend (via Israel) come and get me and whisk me to an altelier on Via Savona. My hotel doesn't kick in until the festival begins so one of the other coordinators is hosting me. His name is Paulo, he is a nice, but a bit too Italian version of a queer nationalist, but at least he's an intellectual and works part-time at La Scala, the famous opera house. The whole queer movement crap is new here in Italy. Paulo's apt is sumpteous and his roommate from Naples, Bartolemew is also sweet. Paulo is also working on a Phd at the university of Milan. There is another roommate, who is an opera singer and from the pictures I see of him he's quite a hunk. Too bad he is in the nearby town of Bergamont preparing for his mandatory armed services. Even fags in this country have to go to the army. I'll be staying in his prissy homo moderne room. The weather is a little humid, but not bad for late spring, almost summer. Before leaving on the trip I had been checking the weather reports and it had been hotter earlier. Tomorrow I have a formal press conference at the Doumo and will wear my Alexander McQueen Audrey Hepburn dress that he made just for me.
Paulo cooks a nice dinner for me that is delicious.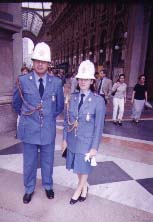 Armani po-lice uniforms -- oh so chic -- Milano
Tuesday, June 14, 1999-
Have to be camera ready for press conference at the Ministry of Information Building at Duomo at 11:00 am. Full drag that early means daytime make-up/daytime glamour. My outfit is certainly stunning and I attract a lot of attention at press conference. All the major media is present and they are only interested in talking to me. It helps being visual. I meet special events coordinators and translators Mateo and Allessandro. Both are cute and nice, my preference is Alle as I start to call him. He's the masculine one, though both are fags.
Giampaulo is such a little sweater fag. He sortof gets on my nerves. He didn't act like this when I first met him in Los Angeles, but here in his own city his bourgeoisness really comes out. I get interviewed on Television and all the major newspapers. They can't get enough of me. I guess they weren't expecting a giant black queen to wear couture and be dressed somewhat conservatively. I've thrown them for a loop. Even Giampaulo was impressed, and he's been acting very jaded. I can't believe that in Europe I'm treated like a bigger celebrity than in the states. This is the way it should be. Meet the tired Chink director YoungFat or Youngfan or whatever his name is. He directed the tranny movie Bugis Street and has a new movie called Beauty in the festival. He's very pretentious and if he bites my tits or squeezes them again my Serpentina will emerge and it will not be pretty for him. I think he was upset that I got more attention from the media then he did. Well, who would you rather interview, an ugly chinese director or a gorgeous famous black drag queen? You be the judge. There is even a representative from South Afrika because a documentary from that country is in the festival. The South Afrikan dignitary is very cordial to me and has prepared a very formal speech for the press that is well received.
Giampaulo is beside himself with glee. It was a very successful press conference and I can tell he is happy that he spent the extra money to bring me out. I guess I have international drawing power.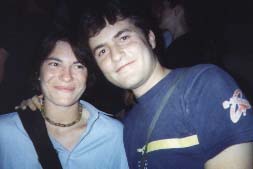 Cute cuddly young Italian festival volunteers
Later in the evening at Club Molto which is owned by Nicola of Club Plastic is a pre-party for the festival. Of course I overdress for the event. It didn't think it would be so informal. I'm wearing my Jil Sander couture and it's boiling in this bar. I am so uncomfortable. It's not even summer yet, but the humidity is heavy. This party is somewhat boring. I meet some nice people and even a cute boy, but the Milanese are so stuck up and snobbish, especially the gay boys. Paulo and I sneak out early and meet up with some other cute boys who are young with tight bodies, but too tiny for my taste. We all wind up hangging out at this lil café, drinking and stinking, and living it up. I think I'm going to like Milan.

Ms. Davis at reception for expatriate
David Leavitt and beau.
Wednesday, June 16, 1999- Get up early from a wonderful sleep, I walk around Milan a bit and wind up getting lost. See lots of cute boys with bubble butts but none are interested in me. I barely find my way back to the apartment to change into drag and go to a reading by writer David Leavitt with an after party with drinks furnished by Absolut Vodka--gosh they sponsor everything. Meet David and his lover who are huge fans of mine. I guess they use to live in LA and have followed my career. They are also my age but look a lot older. They are both cute and somewhat cornfed. They tell me they live in Tuscany, and even invite me to come and stay with them. They both speak fluent Italian. This is the first day of the film festivale that is being held at the Cinema Eliseo. Skin of Skunk Anansie (who are very popular in Italy) greets the audience to introduce her latest rock video which features a lot of cute boys making out. I like Skin--she's the 90's version of Grace Jones. The theatre is so packed and there is no air conditioning and I'm of course, sweating and looking very ugly. The humidity makes my false eyelashes come off. In all, I'm not a pretty sight. Giampaulo takes me to this cute restaurant and I stuff my face with food. I'm the only one who eats so heavily. These Milanese eat like birds. We then go to a party at some gay bar called Afterline. They get me all liquored me up and even convinced me to sing something on top of some record. It was very 22 cents but the crowd seemed to love it and I handed out fliers for my show Saturday at Club Plastic.
Thursday, June 17, 1999-
I get to checks into the hotel Ariston to-day. Its located in the centrale sector right near Cinema Eliseo. The centrale is like the downtown area and its great for people watching. My hotel room is cute, but little, with a great view of the city. There is at least one front desk clerk who is a babe. One of Giorgio Armani's top print model's is also staying at the hotel. His name is Christian and he is nothing to look at. Just a sweater queen with an ok body, and extremely preppy wearing Ralph Lauren sport shirts, jeans and topsiders. He has some boyfriend or trick with him, who is a tight faced snot. I meet the hotel concierge, who is a dinge queen name Lino. He is very nice. The hotel also has a computer and a bicycle for guests which I will take advantage of. I'm not going to see any movies to-day I'm just going to the free dinner that they are having for VIP guests and maybe do a little sight seeing.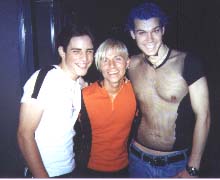 All-Euroboy group 22 Celcias
Got back from my VIP dinner which was fantastic. The cook is this little Sicilian boy who works as a TV food stylist. He has a great ass and is very cute. After dinner I got suckered into seeing YoungFat's latest film Bishonen! . . .Beauty. Which has some cute Asian boys in it, but isn't as good as Bugis Street, his other movie. One kid in the film reminds me of Action Jackson who is my trumpet player in my band black fag. Go to after party at this tired boring club. Met Andreas some sad faced boy from Torino who is a friend of Ron Athey's and is into punk so he is familiar with me and is a big fan. We sit and talk forever. Too bad Andreas isn't attractive. He's so sweet and gentle. He use to work with the festival as a programmer, but got burned out. There's no one at this party who will have sex with me so its time to leave and go back to my hotel. The dinge queen conierge us so happy to see me again and he keeps me up all nite chatting away and fixing me these tasty snacks and strange colored drinks.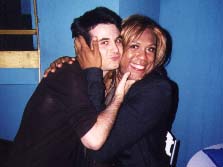 Ms. Davis and Visconti heir
Friday, June 18, 1999-
Paulo takes me to lunch at some cute café around the corner from the teatro. I love the lunch crowd. The men wear such stylish suits and all the women are dressed to perfection. The lunch menu is a little too light for my taste buds. I want some hot food, not prucioto and cold pasta and salad. Everything is lite here. The free breakfast at the hotel is light, with strong coffee and a pastry and softboiled egg, fruit and cereal. I need some bacon, fried eggs and hashbrowns to be happy, but at least its free. Even the free dinners are a little on the lite side, but good. I'm learning some Milan tricks for when I cook back home. Won't be seeing any movies at the festival today or going to the after party tonite as its at some anarchist squat. I need to save my strength for tommorrow which is my big nite with my screening and performance. I'm a little disapointed that no one has made overtures in getting me between the sheets. You would think Giampaolo would have tried to pimp someone out to me, but he's too busy with his hunky Jewish boyfriend, to consider my sexual needs.
Saturday, June 13, 1999-
My big day. Starts off with a trip with Andreas to the outer regions of Milan to some swap meet. I want to leave the city with something fashionable. I'd like a pair of Italian shoes. Well we get to the flea market that is way out in the boondoggies. Everything is cheap alright, but too low rent even for MY standards which are low. Only the turks shop and Baltic refugees shop here. Its like a giant yard sales where everyone is trying to sell you broken junk. Thank god one merchant was selling new T shirts. They were simple shirts nothing fancy, but they were made in Italy and were a bargain three for 10,000 Lira which is like $5 in American money.
I went to Club Plastico for soundcheck at 11:30, but they meant 11:30 at night not in the afternoon. I run into the same girl from my first day in Milan and she's just as helpful as ever. So after that grand waste of time I get in a mood to offer up some observations on Milano: Lots of cute boys with tight culos (asses) and hot hustlers that hang at the Duomo. People are too fashion conscience here. No thrift stores in Milan. No one wears last season's clothes. I am not dressed very fashionably as a boy, except when I'm wearing my highwater pants that I've noticed are popular on the trendy men here. I am pretty much ignored by the available hotties. I could have stayed at home and gotten the same treatment.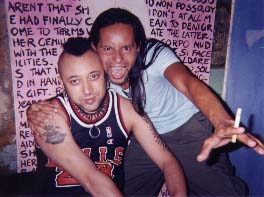 Carlo and Gito, Donatella
Versace's hairdresser boys
Rode bike around city and saw the Visconti castle and park. Lots of incredible beauties but of course no one is interested in little me. Have to get all dolled up for my screening tonight. I'd like to stay and watch my retrospective plus White to Be Angry is playing with Judy LaBruce's new film Skin Flick, but if I do I'll miss the free dinner and my soundcheck at the club. I hate it when I have too much to do on one night. Mauritzio the make-up artist to Donatella Verscace beats me an incredible face. Glenn Belverio connected me to him and he is a huge drag hag and fan of my work. I actually have tons of fans which is surprising to me, but underground stuff carries quite a cachet with these trendy Milanese—and I'm as underground as it gets. I get a thunderous applause from the audience when I introduce my retrospective. Its jam packed. I've become a favorite of the Milan press. One reporter has been literally following me around commenting on how beautiful and natural I am.
Marina Spadaforo lent me a gorgeous gown to wear, and she even comes to the screening. Of course that gives me points with all the social climbers and there are a lot of them. Old money rules in Milan. Paulo drives me to dinner, then after I eat its time to go back to the theatre and introduce Skin Flick and White to Be Angry. This won't be the first time the two films play as companion pieces. I'm wondering how the translators were able to decode all my slang into Italian. Well thats there problem not mine. Paulo takes me to the club for soundcheck and sort of works as my assistant. That is good because I need one. Pinky the hot dyke stage manager gets me the most incredible beauty as my virgin sacrifice. His name is Alberto and he is from Naples and he is the ultimate Italian dream. Of course they couldn't find someone from Milan. No one in Milan would tarnish their image to be in my show. Alberto is so hot and hunky with large feet just ripe for sucking and big titties and ass like I like it and young and innocent and eager to please. He's only 21 and so cute and nice and speaks good English. He's working class and not precious like all these insepid Milanese boys. We rehearse during soundcheck and everything looks to be about right. They have a slide projector and TV monitors to play my movie images in a loop, so I'm giving them a good 18 cent show. The person doing the sound at the check won't be the same at showtime and that worries me, but what can I do? I go down into the dungeon of a dressing room and sweet Alberto stays with me even though it will be boring, he doesn't want to leave my side. I am so impressed with that. Two journalistas from Republica the largest newspaper in all of Italy also come into my dressing room to interview me. I start to retouch my Mauritzio made face.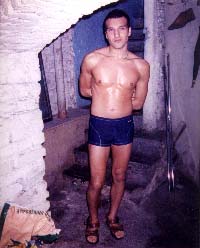 Alberto, Ms. Davis' hot Milan Shrimp Model via Naples
Mauritzio's ex boyfriend Marco, who is a punky modern prim hair dresser. Comes down in the dressing room to hang out with us. He is very cute and sweet. I'd lose some of the tatoos and piercings if I was him though. Alberto is straight -- I knew there was something I liked about him. Good looking men in the States are never this comfortable with themselves. Paulo comes down and checks on me as well. Paulo has been taking care of me the way Giampaulo should have been doing. Giampaulo is way too prissy for his own good. I bet he isn't even good in bed. I find out that Paulo's parents own the building that he lives in. No wonder he has a penthouse apartment that is huge.
By showtime the place is packed beyond belief. No one goes out before 1 in the morning here. It's not considered chic. So I am gracing the stage at 3 am. I am so tired I can barely hold my head up. Of course there are muy technical problems. My music isn't coming on and when it does come on its the wrong song--so I do the best I can. Luckily by the time I bring Alberto to the stage his beauty holds everyone's interest. Since he is not from Milan he isn't part of the Milanese 40 and no one knows he is, and they are in wonder of him. He loves the attention and milks it for all its worth and I love him for that. We're a perfect match. I shrimp him and for an additional 2 cents put whip cream up his crack and siphon it out with my tongue. This little bit of vulgarity doesn't hold well with half of the audience. They are so conservative here. Glenn Belverio warned me about that. Doesn't matter--the show was fine, they got some good visuals what more can one expect. Beautiful Alberto was so wonderful. After the show instead of hanging out in the disco he stayed in the dressing room with me a while and then just went home. I love that boy. Several festival people asked me where I found him, and if I brought him in my suitcase? I wanted to cruise after the show for a hot honey to take to my hotel and plow but I didn't think I'd have any success so I just got a taxi and left. My dinge queen concierge was there and made me some drinks and got me some snacks which was nice since I was starving. There is no gay area in Milano. No gay ghetto so all the gay places are spread throughout the city. I'm a little sick of Milan and can't wait to leave and try my luck in some of the other cities on this tour. I'm sure when I reach Switzerland, home of the giant dicked Swiss Germans, that I'll get some action.
---
Read Vaginal Davis' German Diary.
And you can read More from Vaginal Davis' Diary.